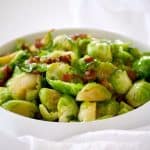 These Maple Bacon Brussels Sprouts are Brussels sprouts cooked in a skillet with bacon, some brown sugar and maple syrup. This is a great side dish to serve with any dinner and will convert your Brussels sprouts hater.
Cut the Brussels sprouts either in halves or quarters depending on their size and place into a bowl.

Slice the bacon into small pieces.

In a large skillet over medium-high heat, cook the bacon until crisp.

Remove from skillet and place onto a paper towel covered plate.

Put the brown sugar and maple syrup in the skillet and whisk to mix.

Add the Brussels Sprout and toss to combine.

Cook for 8-10 minutes on medium-high until soft.