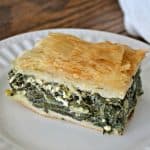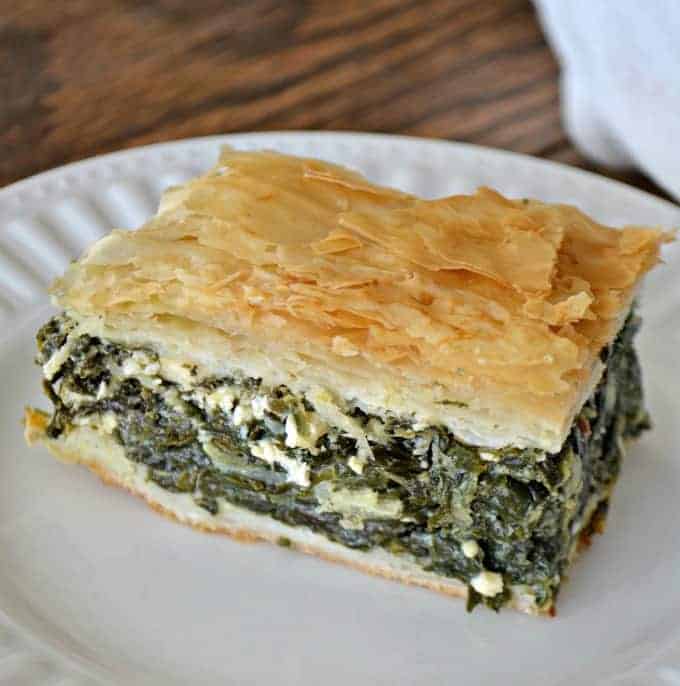 Spinach, onion, herbed Feta cheese in between layers of Phyllo dough create an easy and delicious Spanakopita that makes plenty to serve everyone.
1

package of phyllo dough

thawed

2 16-

ounce

packages of frozen spinach

thawed

1

very large sweet onion

minced

3

packages of tomato & basil spiced feta cheese

1

cup

olive oil + 2 tablespoons

5

eggs

8

tablespoons

1 stick unsalted butter, melted
Preheat oven to 350 degrees F.

Heat large pot on stove top on medium high heat.

Put in the 2 tablespoons of olive oil, add minced onion and sauté until soft.

Add spinach and mix together.

Remove from heat and set aside to cool.

In a large bowl, beat eggs.

Add remaining cup of olive oil and crumbled feta cheese.

Combine cooled, cooked spinach mixture with egg mixture

Brush a small amount of melted butter on bottom of a 9 x 13-inch baking dish.

Place three pieces of Phyllo dough into the bottom of the baking dish.

Brush gently with melted butter (don't be shy, but don't overdo). Continue with process until half of the Phyllo dough is on the bottom.

Pour spinach mixture over Phyllo dough.

Place three pieces of Phyllo dough over mixture and brush with butter.

Continue with Phyllo dough and butter.

Butter top layer and sprinkle a small amount of cold water on top. Tuck in edges.

Bake for 1 hour.