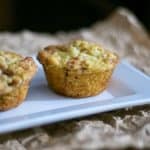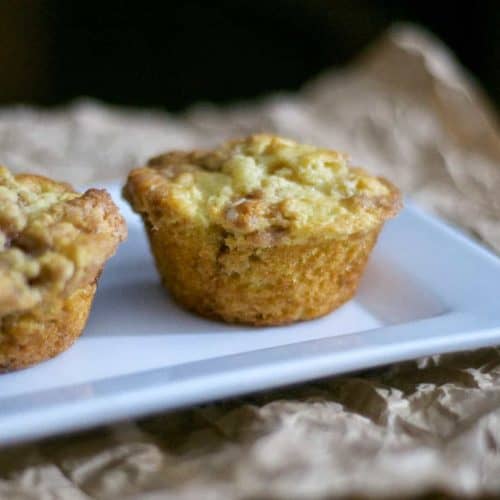 A soft, tasty muffin that has cinnamon and sugar mixed throughout. Perfect with that morning cup of coffee.
Cinnamon Streusel
1/2

cup

packed light brown sugar

4

tablespoons

unsalted butter

cut into small pieces

1/4

cup

flour

2

teaspoons

cinnamon
Preheat oven to 400 degrees F.

Grease only the bottoms of a 12-cup muffin tin.

In a medium mixing bowl, combine the ingredients for the streusel, the light brown sugar, flour and cinnamon. With a pastry cutter, cut butter in until it looks like coarse meal. Set aside.

In a small bowl, whisk together the ingredients for the batter – the flour, baking powder, baking soda, and salt.

In the bowl of an electric mixer fitted with the paddle attachment, combine the butter and sugar. Beat until light and fluffy.

Add the eggs, buttermilk, and vanilla extract.

Mix in the dry ingredients and stir until just combined.

Sprinkle the streusel on top of the batter and then use a rubber spatula to gently fold it or poke it in a few times.

Evenly divide the batter between the muffin cups.

Bake for 13 minutes or until a toothpick inserted in the middle comes out clean.

Transfer muffin tin to a wire rack and allow to cool for 5 to 10 minutes before removing from the pan.