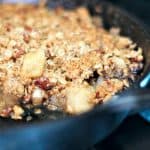 Diced apples, brown sugar, cinnamon, a vanilla bean cooked together in some butter on top of the stove in a cast iron skillet. It is then covered with a streusel topping made of oats, cinnamon, nutmeg, brown sugar, pecans and butter. This is a dessert you will be asked to make again and again!
Streusel Topping
1 1/2

cup

oats

1

cup

chopped pecans

1/2

cup

packed light brown sugar

1/4

cup

flour

1/2

teaspoon

cinnamon

1/4

teaspoon

nutmeg

1/4

teaspoon

Kosher salt

6

tablespoons

cold unsalted butter
Preheat oven to 350 degrees F.

In a medium bowl, mix together the oats, pecans, flour, brown sugar, cinnamon, nutmeg and salt.

Cut the 6 tablespoons of butter into small pieces and using your fingers, massage the butter into the mixture until it is incorporated fully.

In a large bowl, toss the apples with the tablespoon of lemon juice, brown sugar, cinnamon and salt.

Over medium heat, melt the 3 tablespoons of butter in a 10-inch cast iron or oven-proof skillet.

Using a sharp knife and on a cutting board, slice down the middle of the vanilla bean. Gently scrape all of the vanilla bean goodness (those little egg-looking vanilla bean specks) out.

Add the vanilla specks to the melted butter and stir for about a minute.

Increase heat for the skillet up to medium-high and add the coated apples.

Cook for 5 minutes, tossing the apples gently in the vanilla butter.

Remove from heat and evenly scatter the streusel topping over the apples.

Place into the oven and bake for 30 minutes.

Serve with vanilla ice cream, if desired.