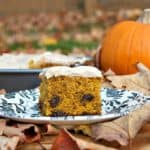 Chunks of semi-sweet chocolate throughout a pumpkin flavored cake topped with a pumpkin spice cream cheese frosting.
Preheat oven to 350 degrees F.

Prepare a 9-inch square cake pan by greasing with butter and lightly flouring.

Measure the 1/2 cup of milk and stir in the white vinegar. Allow it to sit for 15 minutes to sour.

In a stand fitted with the paddle attachment, cream the butter until light. Gradually add the granulated sugar, beating until light.

Add the pumpkin pureé, eggs, and vanilla. Scrape down the sides of the bowl as needed throughout the recipe.

In a small bowl, whisk together the cake flour, pumpkin spice, baking soda, and salt.

Add to the pumpkin mixture and blend well.

Slowly add the sour milk and beat until thoroughly combined, remembering to scrape the sides.

With a rubber spatula, mix in the chocolate chunks.

Pour into prepared pan and bake for approximately 45 minutes until a toothpick inserted in the center comes out clean.

Cool the cake in the pan for 5 minutes before turning out on a wire rack to cool completely before frosting.
Pumpkin Spice Cream Cheese Frosting
In a stand mixer fitted with the paddle attachment, cream the cream cheese and butter until well combined. Gradually add the confectioners' sugar. Scrape down the sides of the bowl and add the pumpkin spice and vanilla. Mix until thoroughly combined.