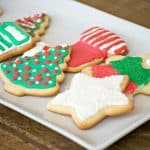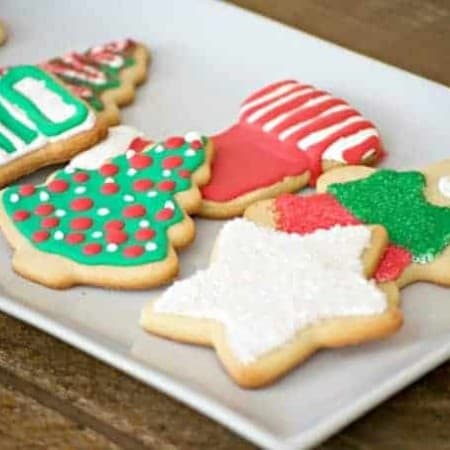 Jackie's Vanilla Cut-Out Sugar Cookies are tasty sugar cookies from the Cookies for Kids' Cancer Cookbook and I baked them in my De'Longhi Livenza Oven.
Cookies
1/2

lb.

unsalted butter

room temperature

1

cup

granulated sugar

2

large eggs

room temperature

2

teaspoons

pure vanilla extract

1

tablespoon

light corn syrup

4

cups

all-purpose flour

1/2

teaspoon

salt
Cookies
Cream the butter and sugar in a large mixing bowl until light and creamy, about 3 minutes.

Add the eggs, one at a time, vanilla and corn syrup, beating after each addition. Scrape down the sides and bottom of the bowl.

With the mixer on low, add the flour and the salt. Beat well, scraping down the sides and bottom of the bowl as necessary.

Divide the dough into 3 disks, wrap in plastic and slightly flatten. Refrigerate for at least an hour, up to 2 days or can be frozen for up to 2 months.

When ready to bake, preheat your DeLonghi Electric Oven, placing it on the cookie setting, 2 racks, for 10 minutes.

Place the cookies on the two oven racks covered in aluminum foil, and put in to the oven at position 2.

Bake the cookies for 5 minutes, switch the tray positions and bake until the edges begin to brown, about an additional 5 minutes.

Repeat with remaining cookie dough.

Cool on sheet for 3 minutes and transfer to wire rack to cool completely. Repeat with remaining dough.
Royal Icing
Place the confectioners' sugar and meringue powder in the bowl of an electric mixer fitted with a whisk and beat on low speed to blend.

Add water, 1 tablespoon at a time, until the mixture is spreadable. Increase the speed of the mixer to high and beat until peaks form, about 6 minutes.

Divide the icing among resealable containers (this prevents the icing from hardening).

Tint each container of icing your desired color using the icing colors.

When ready to decorate, dilute the icing using 1 teaspoon of water at a time until the icing is the consistency of heavy cream.

Keep the icings covered if not using and decorate the cookies as desired.

Store in an airtight container for up to 10 days, or freeze for up to 3 months.
Standard oven directions:
Preheat the oven to 350 degrees F. Line 2 cookie sheets with parchment. Roll out the dough between 2 sheets of waxed paper to a scant 1/4-inch thickness. Cut out dough using cookie cutters and place 1 inch apart on prepared cookie sheets. Place in oven and bake until cookies just begin to brown on edges, about 8 - 10 minutes, rotating cookie sheets halfway through baking time. Cool on sheet for 3 minutes and transfer to wire rack to cool completely. Repeat with remaining dough.