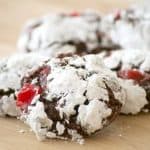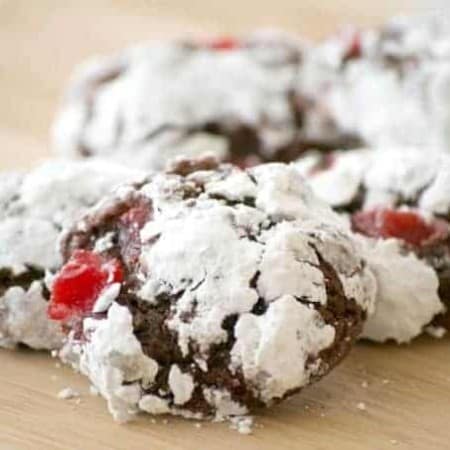 These Chocolate Cherry Crinkles are a chocolate crinkle cookie with diced maraschino cherries. If you like chocolate covered cherries, you're going to love these!
Sift the flour, granulated sugar, cocoa powder, baking powder, and salt together into a medium bowl.

Add the eggs and melted butter and mix until thoroughly combined.

Mix in the chocolate chips, quartered cherries and cherry juice.

Cover bowl with plastic wrap and refrigerate for two hours.

Preheat oven to 325 degrees F. Prepare a baking sheet by lining it with parchment.

Place the 1/2 cup confectioners' sugar into a small bowl.

Using a flat tablespoon of dough, roll into a ball and roll in confectioners' sugar.

Place covered dough balls onto prepared baking sheet about 1-inch apart.

Bake for about 12 minutes, until cookies are puffy and crackled looking.

Allow to cool on baking sheet until set, about 5 minutes before transferring to a wire rack to cool completely.
Your hands could get sticky as the dough warms up when you're rolling it into balls, so use a cookie scoop and try to roll them as quickly as possible. Don't worry, the messy hands will be worth it.*