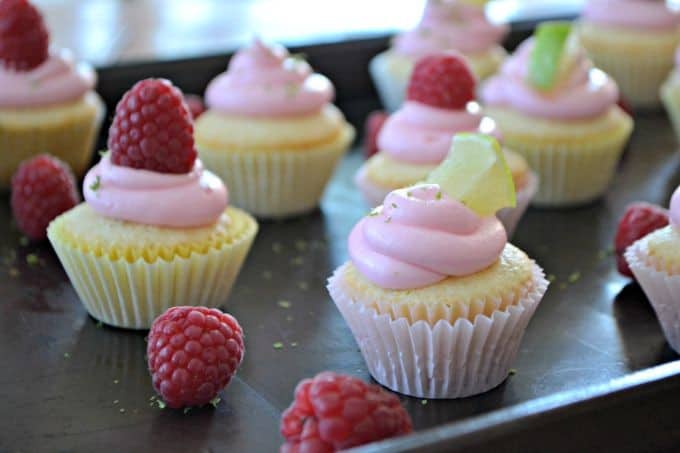 I finally feel like we're settled.
Or at least once again, temporarily.
We moved last weekend for the 250,577th bazillionth time since we married just 25 years ago.
Ok, I know, I know, I exaggerate. But it sure does feel like it!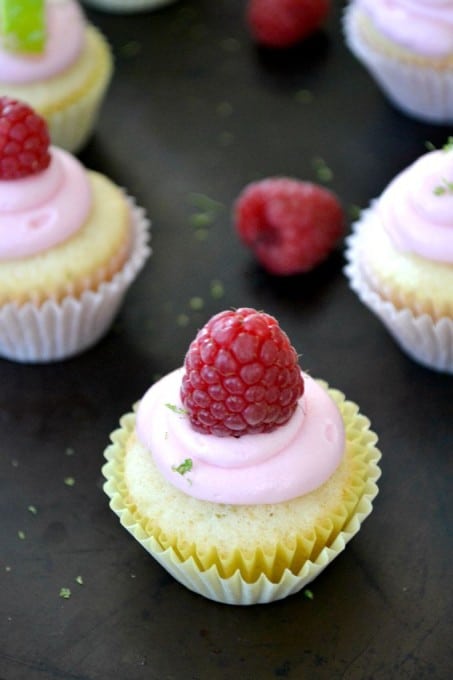 The reason we moved after only living in the home for 8 months was because our landlord wanted to move in before his children began school this past week. Totally understandable, but completely caught us off guard. I mean, I was comfortable. We were "settled" and I had hopes that we'd be there at least a couple years before we moved into something of our own. Now, believe me when I tell you this sudden change of residence now has me counting down the days until we do move into our own place again.
Yet with owning our own home, comes SO many questions! The first of which is where will we go? The kids are all adults now (which is still really bizarre to me) and although 2 of the three are currently living with us, I doubt they'll be under our roof forever.
Then comes how much can we afford and what kind of mortgage should we go with? At this point, we don't have enough for the amount we'd like to put down, so we've eagerly started saving for our sunny day.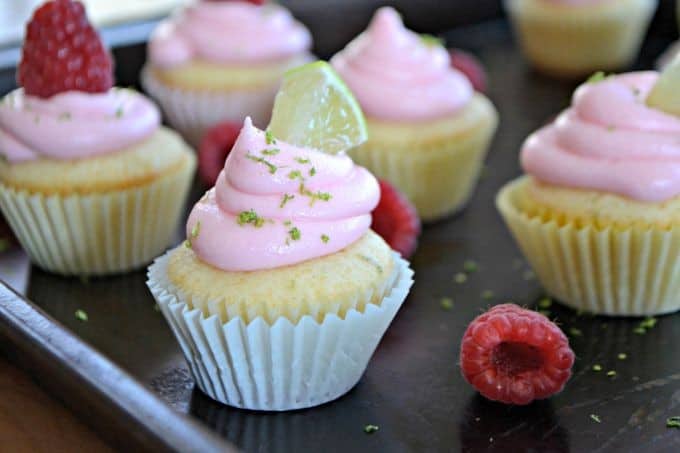 We're not saving for a rainy day like most people do, we're saving for this event that means a lot to us. Yes, we have that emergency fund for when something comes up, but we want to accentuate the positive happenings in life because life events are to be celebrated, and purchasing our own home is one of them.
Those sunny day happenings are where these Mini Lime Cupcakes with Raspberry Buttercream come in. They're going to be the perfect treat to serve your new friends at your new neighborhood potluck, sending a child off to college, a bridal shower or retirement party.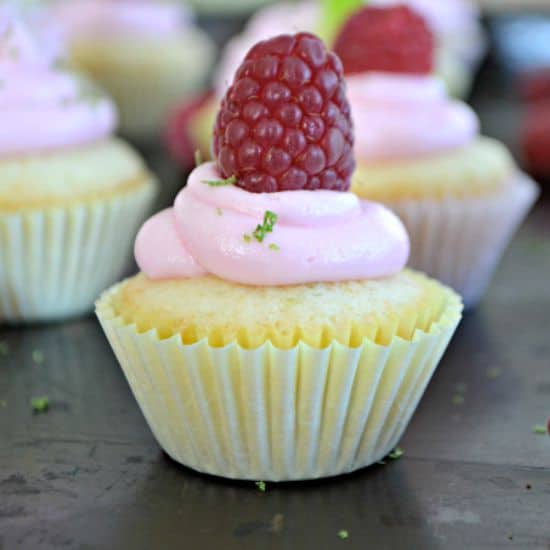 Mini Lime Cupcakes for a Sunny Day
Ingredients
Mini Lime Cupcakes

1/4 cup butter, room temperature
1/2 cup sugar
1 egg
1 tablespoon fresh lime juice
3/4 cups flour
1/2 teaspoon baking powder
1 teaspoon fresh lime zest
2 tablespoons + 2 teaspoons milk

Raspberry Buttercream

2 tablespoons + 2 teaspoons (if needed) Simple Raspberry Syrup, divided
1/4 cup solid vegetable shortening
1/4 cup unsalted butter, room temperature
2 cups confectioners' sugar
Instructions
Mini Lime Cupcakes

Preheat oven to 350 degrees F.
Place mini muffin cups in a 24 cup mini muffin tin.
In a large bowl, combine flour, baking powder and lime zest, and mix well; set aside.
Cream butter and sugar in the bowl of an electric mixer until fluffy and light.
Add the egg, beating until thoroughly combined.
Add fresh lime juice and mix in thoroughly.
Add half of the flour mixture to the creamed butter/eggs and mix until just combined.
Add the milk while beating on low.
Pour in remaining flour mixture and again, mix until just combined.
Fill prepared muffin cups with batter so that they are two-thirds full.
Bake for 10 - 14 minutes. Test at the 10 minute mark to see if a toothpick comes out clean, and bake for a few more minutes, if necessary.
Allow to cool completely on a wire rack before frosting.

Raspberry Buttercream

Cream the shortening and butter in a mixing bowl on medium speed.
Mix in the two tablespoons of Simple Raspberry Syrup
Mix in half of the confectioners' sugar.
Scrape down the sides of the bowl and add the remaining confectioners' sugar.
If frosting appears too dry, add the additional teaspoons of syrup, one at a time.
https://www.365daysofbakingandmore.com/mini-lime-cupcakes-for-a-sunny-day/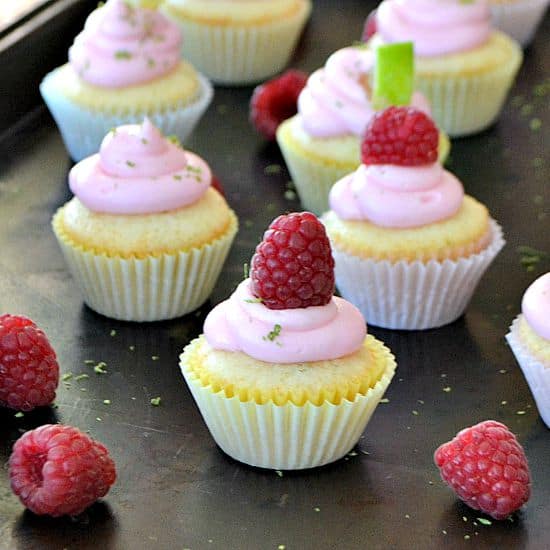 I want to be sure that I have a place to go to when we decide to purchase our next home and I have questions. I know that the Sun Trust Resource Center will ease my stress and can ease yours as well when purchasing a home whether it's your first or your bazillionth! haha
I signed up for their newsletter to receive access to saving calculators, videos about managing my money, and tips for staying on budget (who couldn't use that, right?), and you can, too!
So, I want to hear what sunny day you're saving for and how you'll use these mini cupcakes to celebrate it.
Watch this video on how to perfectly frost a cupcake!
I give you BIG baking hugs and muffins!!
Sunny Days start here.  At SunTrust, they have the tools and resources to help you achieve your sunny day. Start here to find out how they can help you enjoy the things that matter to you.
At SunTrust Bank their purpose is lighting the way to financial well-being. When you feel confident about your money, you can save for your goals and spend knowingly on what matters most to you.  They know we all live for the sunny days and want to you help you live yours.
For even more sunny day inspiration visit yoursunnyday.com
Subscribe to the Shine newsletter and receive inspiration and advice twice a month to help you live for a sunny day.
Visit the SunTrust resource center anytime for help achieving your financial goals.
This is a sponsored conversation written by me on behalf of SunTrust Bank. The opinions and text are all mine.